Are you concerned about the safety, health, and well-being of your family, your employees, or your customers? It might be time for environmental testing and abatement at your home or business. In and around Louisville, your best bet for environmental services is Bluegrass Technologies Corp. Since 1997, we've offered asbestos testing and abatement, mold testing and abatement, lead testing and abatement, and related services throughout the local area. You can count on us for accurate results and comprehensive remediation services. We'll give you a living or working space that's clean and healthy. Want to learn more about what Bluegrass Technologies Corp. can do for you? Call or e-mail us today!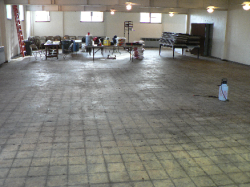 We offer the following services to residential and commercial customers in the greater Louisville area:
Asbestos testing
Asbestos removal
Mold testing
Mold remediation
Lead testing
Lead paint removal
Light demolition services
We have what it takes to make your building a better place to inhabit, avoiding the health problems and other issues that can result from hazards like asbestos, mold, and lead. We'll work hard to meet your needs.
16 Years in Mold Remediation & More
We have 16 years of hands-on experience in our field. Whether you contact us for lead paint removal or black mold removal, we'll call on our extensive experience to select the best tactic to meet your needs. We know how to tackle your environmental problems at their source, leaving you with a clean and safe home or workplace right away, and long into the future.
Licensed & Insured for Asbestos Removal & Beyond
Bluegrass Technologies Corp. is proud to be fully licensed and insured for your protection and peace of mind. In the state of Kentucky, we're licensed as an asbestos management planner, an asbestos building inspector, and an asbestos contractor. We're also licensed and EPA certified to provide environmental and demolition services in Indiana, and we're affiliated with One Southern Indiana Chamber of Commerce. Whether you need lead abatement or mold detection, we're qualified to meet your needs.
Low Rates for Quality Workmanship
At Bluegrass Technologies Corp., we always put quality workmanship and customer service first. That said, our rates for lead abatement, asbestos survey, and our other services are among the lowest in all of Louisville. Not only do we strive to keep our prices reasonable, we offer free estimates for all jobs. When you hire Bluegrass Technologies Corp., you can look forward to getting the help you need without breaking the bank.
For more on what sets us apart from other environmental testing and demolition companies in the region, contact us today. We'll be happy to answer whatever questions you have. When it comes to mold inspection, asbestos abatement, and lead removal, Bluegrass Technologies Corp. truly cares about meeting your needs. We look forward to giving you the healthy and safe space you need and deserve!