Because lead-based paint dried quickly, resisted moisture, and was generally more durable than other types of paint, it was once a common choice in American homes and businesses. However, we now know that lead can be highly toxic to people who are exposed to it in their buildings. If you own a home or business that was built before 1978 (when the Consumer Products Safety Commission banned the use of lead paint), you might be at risk of lead poisoning and related health issues. Protect yourself and everyone who uses your space by contacting Bluegrass Technologies Corp. to discuss lead testing. We'll carry out a comprehensive lead inspection to make sure you're living or working in a safe environment. Call today to learn more!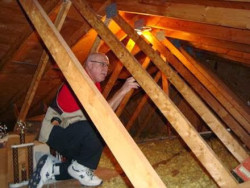 Inhalation of lead dust or ingestion of paint flakes can cause a variety of health problems, including:
Stunted mental and physical development in children
Reduced attention span
Irritability
Nerve damage
Poor muscle coordination
Reproductive issues
And more
That's why testing for lead paint is so vital. You might not realize your building has this hazard until it's too late. But with lead-based paint testing from Bluegrass Technologies Corp., you can breathe easy knowing your worries will soon be over. We've been offering lead paint testing in the greater Louisville area since 1997. We'll use tried-and-true, EPA-approved lead paint inspection techniques to determine whether you're at risk of lead exposure. We prioritize accuracy, so you can trust that our lead testing will give you the results you need to move forward with confidence.
Licensed & Insured Lead Paint Inspectors
Bluegrass Technologies Corp. is proud to be fully licensed, insured, and EPA certified for lead paint testing. We're trained to give our customers quality workmanship and customer service. We know how important lead-based paint testing is, and we care about our customers' safety and well-being. When you're worried about the presence of lead in your building, you can count on our knowledge, skill, and experience.
Call or e-mail Bluegrass Technologies Corp. today to schedule your lead inspection! We'll be happy to give you a free cost estimate for testing for lead paint. If your lead paint inspection has a positive result, we also offer lead abatement. We'll be there for you from your initial phone call until your space is completely lead-free. We're Louisville's choice for professional lead testing and many other environmental services. We look forward to working with you.