If you're concerned about the possible presence of asbestos in your home or commercial space, don't hesitate to schedule professional asbestos testing. Carrying out an asbestos survey can ensure that your space is healthy and safe for everyone who lives or works in it. In the greater Louisville area, your best bet for knowledgeable and skilled asbestos inspection is Bluegrass Technologies Corp. We've been testing for asbestos in local residential and commercial buildings for 16 years, and we'll put everything we've learned in that time to work for you. Call today to schedule your appointment! We look forward to providing the expert asbestos testing service you need and deserve.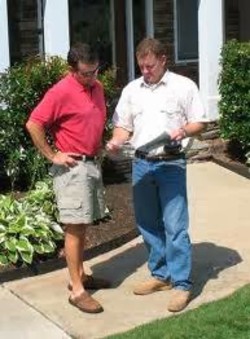 Asbestos is often present in older buildings. Depending on the construction of your home or workplace, it might be found in:
Insulation
Soundproofing material
Roofing tile, shingles, and siding
Textured paint
Door gaskets in wood stoves and furnaces
Resilient floor tiles
And other building components
Asbestos was once a popular building material because of its heat- and chemical-resistant properties. However, it has been proven to increase your risk of lung diseases and other health problems. That's why asbestos testing is so important. You might not realize that this hazardous material is hiding in your space until it's too late. Contact Bluegrass Technologies Corp. to schedule an appointment with an asbestos inspector, and look forward to breathing easy once more.
When you hire us for asbestos inspection, you can usually expect test results within 24 hours. Whether we discover asbestos shingles or a popcorn ceiling with asbestos, we can carry out light demolition to get those materials off your property. We'll also connect you with a company to start rebuilding, using safe construction materials. We don't want you to have to worry about asbestos in the home or a commercial space any longer.
Licensed & Insured Asbestos Inspector
Bluegrass Technologies Corp. is pleased to be fully licensed and insured for asbestos testing service. In Kentucky, we're licensed as an asbestos management planner, an asbestos building inspector, and an asbestos contractor. We're also EPA certified for asbestos survey in Indiana. Our top priority is the quality of our workmanship, so you can always expect superior results.
Call today to discuss testing for asbestos in your building in the greater Louisville area! We'll schedule the earliest available appointment that works for you. For your convenience, we're pleased to offer free cost estimates for all of our asbestos services. At Bluegrass Technologies Corp., we always have your best interests at heart.