Mold growth on your ceiling or walls isn't just an eyesore. It's also a health hazard, causing respiratory problems, increased allergy attacks, and certain kinds of cancer, among other issues. It also spreads quickly, which is why you should take mold remediation seriously. Contact Bluegrass Technologies Corp. to discuss mold removal services as soon as you realize you have a problem at your home or business. We'll be right out to start making your building a safer, healthier, and more attractive environment. We're one of Louisville's most trusted mold removal companies, and we'll work hard to ensure you get the help you need. Call today!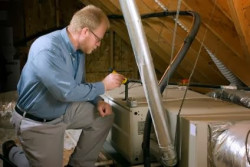 We offer both mold testing and mold removal services. That means we can help you deal with your mold problem from start to finish. Come to us if you see or are experiencing signs of mold including:
Stains and discolorations
Visible mold growth
Pervasive leaks
Peeling wallpaper or paint
Warped walls
Musty odors
Increased allergies or other health problems
We'll send a mold removal specialist to scrape away surface mold and chemically treat the affected area. We'll always aim to get the whole problem safely cleaned up. Once we're done with mold remediation, you can look forward to a mold-free future. Our licensed and insured team is equipped for basement mold removal and more in both residential and commercial spaces. Whether you need black mold removal or mold removal service for another type of mold, we're the company to trust.
Bluegrass Technologies Corp. has 16 years of experience in commercial and home mold remediation. That makes us one of the most experienced mold removal companies in the local region. Thanks to the knowledge and skill we've gained in those years on the job, we're able to provide top-quality workmanship and superior customer service. Plus, because we're licensed and insured for black mold removal and more, you can feel at ease putting your property in our capable hands.
Affordable Mold Removal Service
Not only is Bluegrass Technologies Corp. qualified to give you commercial and home mold remediation that gets the job done right, we're also one of the most reasonably priced companies in Louisville. When you need a mold removal specialist and want expert service at a great rate, don't look anywhere else. We'll be happy to give you a free cost estimate for basement mold removal, or whatever other environmental services you need at your home or business.
Call today to learn more, and to schedule your appointment for residential or commercial mold remediation!